Class 100 Gloucester RCW
I quite fancied building a model of the two car Gloucester RCW Class 100 DMU. As luck would have it, I came across a pack of two cast cab ends being sold by Phoenix Precision. They are in fact the former MTK/No Nonsense Kits castings. Nevertheless, they didn't look too bad and I felt I could make something of them. Again, fortunately, Worsley Works supply etched brass sides for the Class 100, so all I need to do is source a roof and chassis.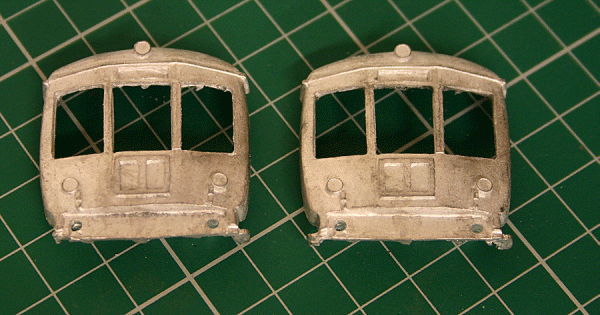 Phoenix Precision Cast Cabs
With a bit more investigation on how to construct this unit, I decided on the following. The sides and ends are the Worsley Works etches, the roof is a DC Kits plastic roof with the chassis being a modified Replica Railways BG chassis. Motorisation will be by a Hornby Class 121 power bogie.
One thing I have noticed is that the units were built in two batches and the cab ends differed slightly. The Midland batch had a single headlight above the cab whereas the Scottish batch had two marker lights below the cab windows and no central top light. As mine is to be a Midland version, the two lower lights will be removed.
Worsley Works currently offer a 'scratch aid' kit of this class. MTK also offered a kit of this class. Anbrico produced a kit of this class some years ago. Phoenix Precision offered two cast cab ends for a while.