Class 123 Swindon Inter City
The four car Swindon InterCity Class 123 units were perhaps the pinnacle of First Generation DMU design. They had more in common with Mk.I coaching stock than previous DMU's. Built in 1963 on 64ft. 6in. frames, they featured through gangways of the Pullman design. DMU ride issues were improved by using B4 and B5 bogies. Certainly very comfortable to ride in and one of my favourites.
I acquired a conversion kit from Silver Fox Models. Cast resin ends are supplied including some of the carriage side to recreate the brake ends. Additional components include exhaust pipes, various air cylinders, a representation of the underfloor engines and equipment as well as some flush glaze for the wrap round windows. The kit is designed to be used with various Bachmann or Hornby Mk.I's. I decided to use the Hornby versions.
Class 123 Parts
Carriages needed are a CK, 2 x TSO/SO and SK. B4 (for the trailer cars) and B5 bogies (for the power cars) are needed, if not already fitted to the donor carriages. I had to purchase some and I chose the Replica Railways self assembly ones. The reason for this is so that I could install the DCC Concepts spring pick up system and fit the wheels of my choice. .
The DMBS converted and in primer
For a chassis, I decided to give to give the Replica Railways die-cast powered chassis a go. These are available as either short (57') or long (64') frames running on 12mm or 14mm wheels. It is a very neat and low profile unit enabling full interior detail to be installed, in this case, the recycled and modified Hornby interiors. It features two separately motored bogies with an 18:1 ratio complete with an 8 pin DCC socket. Despite the gear ratio, it runs very smoothly and slowly straight form the box and is a perfect fit for the Class 123. Obviously side frames and under floor detail will have to be fitted.
I decided to open out the headcode panels as I intend to fit illuminated headcodes. Curiously, despite being the most modern of first generation DMU's, Swindon didn't fit an electric tail light, an oil lamp was hung on the lamp bracket at the rear! Another interesting feature was that the gutters run from the corridor connection around the cab and along the body. As such, one of the drivers door handrails was a hollow tube and ran from the gutter to solebar level. These were modified much later in blue/grey days.
A Painted Driving Car
A bit more work on the bodies saw lining out, numbering and other decals applied before varnishing. Glazing has become a bit of an issue. I have fitted the wrap round drivers windows along with the headcode panels, which will be illuminated at a later stage. The main carriage windows are the issue. I did originally just fit clear acetate to the inside of the body with the intention of adding the ventilators by using green painted microstrip glued on with Glue'n'Glaze. It looked okay, but I really wanted to get the 'flush glazed' appearance. I still had the original glazing but the problem was how to get even, straight green lines n the ventilators. Painting with a brush wasn't an option, I wouldn't be able to keep it straight. A chance reading on a well known web forum came up with the idea of using a artists paint pen and ruler. This sounded like a good idea, so I have duly ordered a paint pen to see if it works satisfactorily.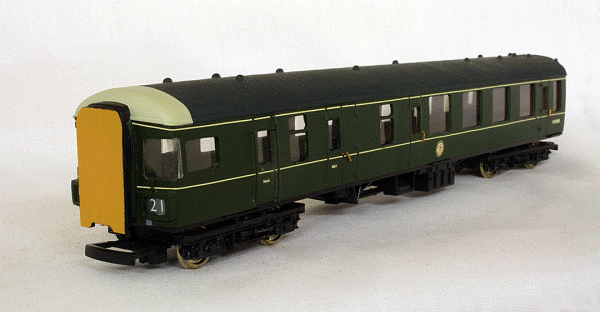 Decals applied and varnished
Ignore the chassis for the moment on the above photograph. It still needs the under parts removed and replaced with engines, gearboxes etc. Similarly, a buffer beam needs adding and the Hornby style tension lock loop removed.
Silver Fox Models offer a RTR version of this class in 3 or 4 car sets. Worsley Works currently offer a 'scratch aid' kit of this class, but sides only. MTK also offered a kit of this class.